This adorable ladybug brings numbers to life! Becky's belly is embroidered with ten colorful numbers and there are also ten color-coded buckle straps to connect and match. Kids love to count her cheery polka dots and enjoy unzipping the hidden pocket across her back.
Features
• 6 child-friendly buckles
• Embroidered shapes and numbers
• Zipper pocket
• Size: 9" x 6"; 6 ounces
Customer Reviews
07/28/2020
Patricia W.
United States
Becky Ladybug
My granddaughter is facinated by this!! She loves it!!
05/03/2020
Becca G.
Canada
Such a great toy!
My daughter is obsessed with clips. Her highchair, her stroller, her "bike". But she can't undo the clips so she gets upset and we then have to go to whatever she's clipping and undo it for her. It's a constant thing. But, having this portable clip toy has been a life saver! She can bring the toy wherever she wants and she can undo these clips as they are more child friendly. We absolutely love it! And the design is just adorable!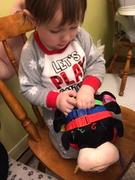 10/31/2019
Clare C.
New Zealand
Becky Ladybug
Love this. Its actually the secong one i've brought, this time for my niece as she loves my daughters one so much. Great item!!
Becky Ladybug
My two year old loves it
Keeps kids entertained
My niece and nephew love these toys!! They have such a fun time with the buckles, counting the numbers and learning colors, I would definitely recommend this item.