Billy Bear Backpack
Regular price
$ 29.99
Sale price
$ 49.99
Unit price
per
Nothing is better than a bear hug! This spacious zipper backpack doubles as an interactive toy and life skills trainer. Colorful buckles, snaps, and buttons cross Billy Bear's sides for tactile entertainment. Hidden on his belly, kids can practice tying laces and telling time with clock hands that really turn and click.
Features
• 8 child-friendly buckles and snaps
• Shoe laces and button 
• Practice clock with embroidered numbers
• Zipper pocket. Sized to fit a small tablet or ipad mini
• Size 11" x 8"; 5 ounces; Adjustable straps
---
Share this Product
---
Customer Reviews
11/14/2017
Alina E.
United States
Great toy
I got this toy because my daughter loves clips and buckles and zippers, and it's surprisingly hard to find a toy that has all that. This adorable backpack was perfect and felt very well made. Definitely pleased with my purchase and would recommend to those with toddlers that also loved to play with your purse zippers or carseat buckles.
Christmas present
This is a gift for Christmas so my grandson hasn't had the opportunity to play with it yet. I think he will love it.
11/09/2017
Johsie B.
United States
Billy backpack
My 2 year old loves all of the buckles on Billy backpack and it keeps him occupied for several minutes. He was premature and has developmental delays. it is great for his fine motor skills. It would be easier for him if the buckle straps were longer. My son gets frustrated easily then throws the the bear when he can't buckle it. He will take Billy to therapy preschool with him next year. I love the added bonus of the clock and shoe lace for him to work on in the future. I am going to buy one for my full term 20 month old niece whom can already buckle but can't get enough of it.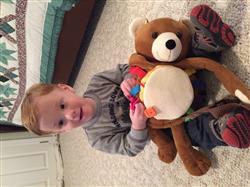 GREAT for travel!!!!!!
We've had "Billy" for a couple of weeks now. We have a different Buckle Toy backpack for my almost 3 year old which he loves especially when we travel. On our most recent trip our one year old kept reaching for it and it proved to be a life saver on our flights. Was surprised because at 15 mos I didn't think he was ready for buckles yet but he proved me wrong. Got home and immediately ordered this and my little guy loves it! He seriously drags it with us everywhere!!
Great New Buckle Toy
Our little granddaughters love to fasten and unfasten things and will soon learn how to tell time and tie their shoes with this sweet backpack. They already have some buckle toys and have loved them, but this is a larger version with the added features and a backpack. I bought the bear and panda and am keeping them for Christmas presents. I'm sure they will love them!